Make this Pumpkin Pie Play Dough Recipe for a fun craft for the kids. Scented with pumpkin spice mix and has added orange glitter.
My daughter loves to help me make playdough. We make it only a few times a year since it makes such a big batch. We usually make playdough for parties so she and her friends have something fun to do while the adults socialize.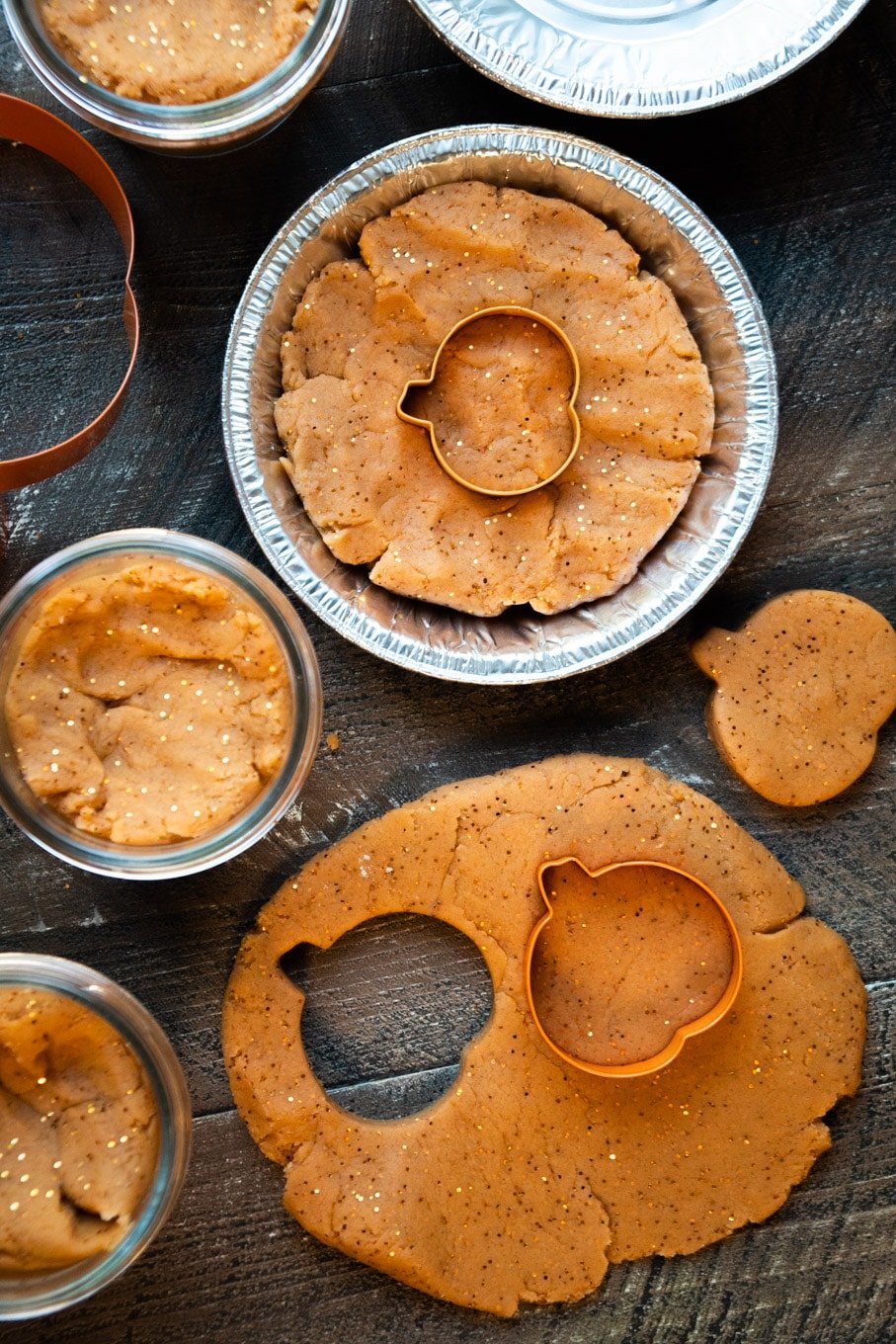 How to make pumpkin pie play dough:
You will need these ingredients:
All-purpose white flour
Salt
Pumpkin pie spice
Cream of tartar
Vegetable or canola oil
Water
Orange glitter
Orange food coloring
(full recipe below photos)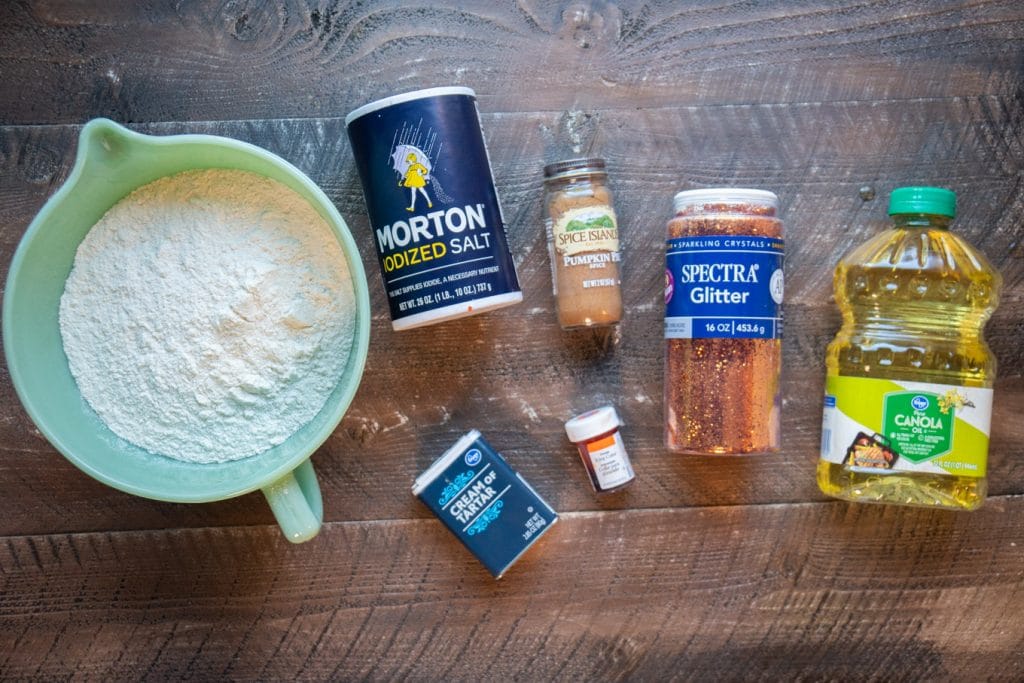 Directions:
Add the flour, salt, pumpkin spice, cream of tartar and glitter to a large pan.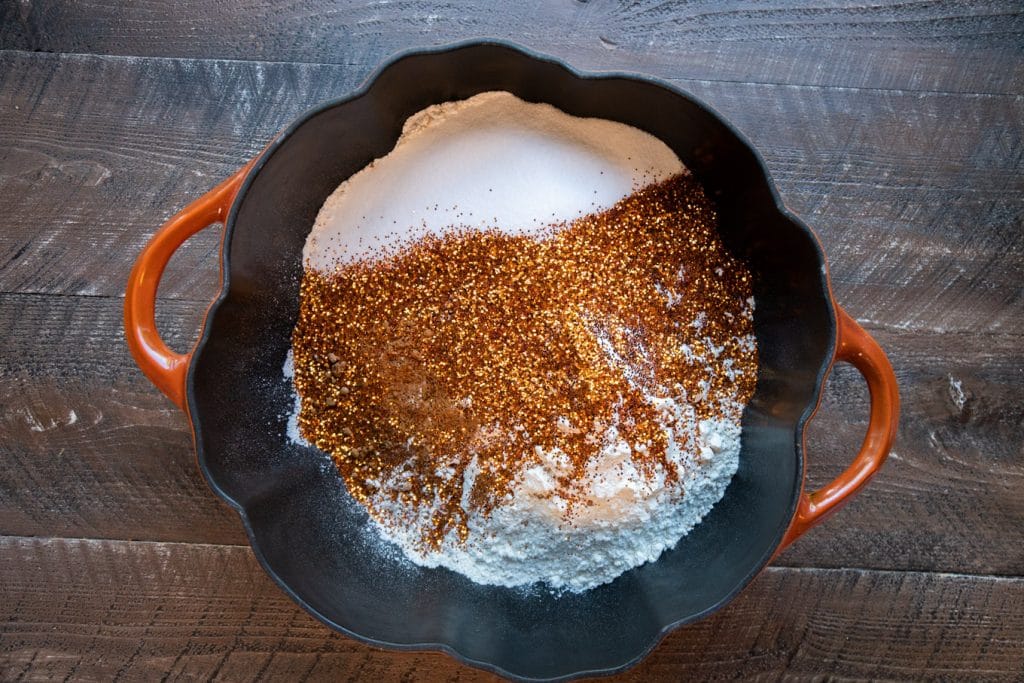 Stir those dry ingredients together.
Add the oil, water and food coloring, stir until smooth.

Turn the pan onto medium heat. Keep stirring the playdough, you do not want it to burn or stick to the pan.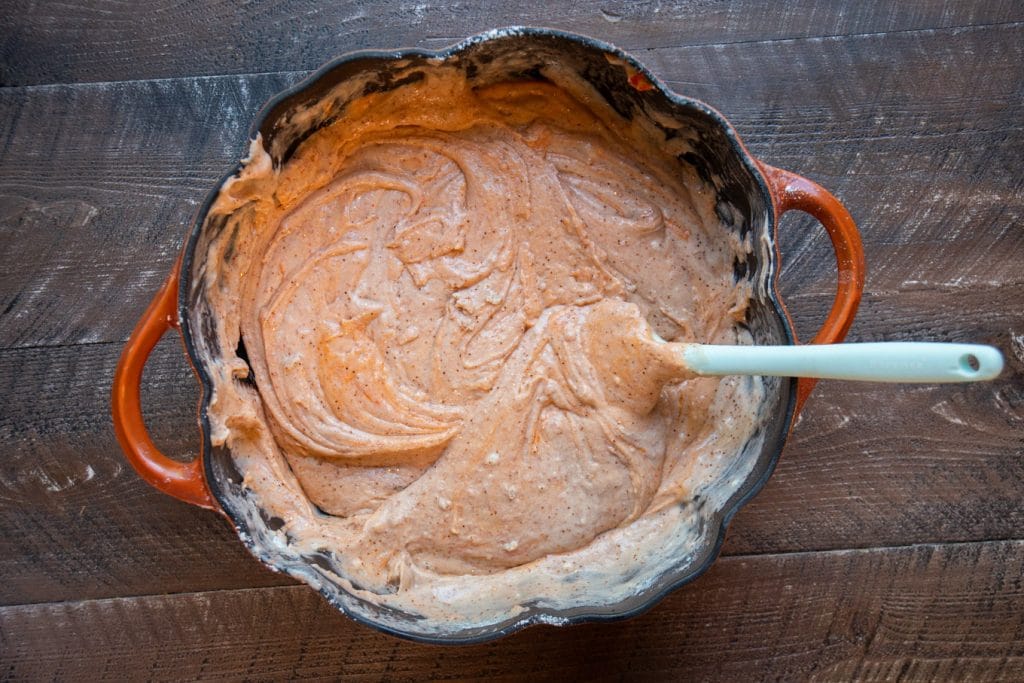 After about 7 minutes of cooking the playdough will start to thicken and darken. Do not over cook and do not let it start to scorch.
Remove from heat and have a floured surface ready.
Place the dough on the floured counter top.
I let the playdough sit for a few minutes before kneading as it can be hot. Knead for a minute or until the desired texture is achieved.
Cool completey before storing.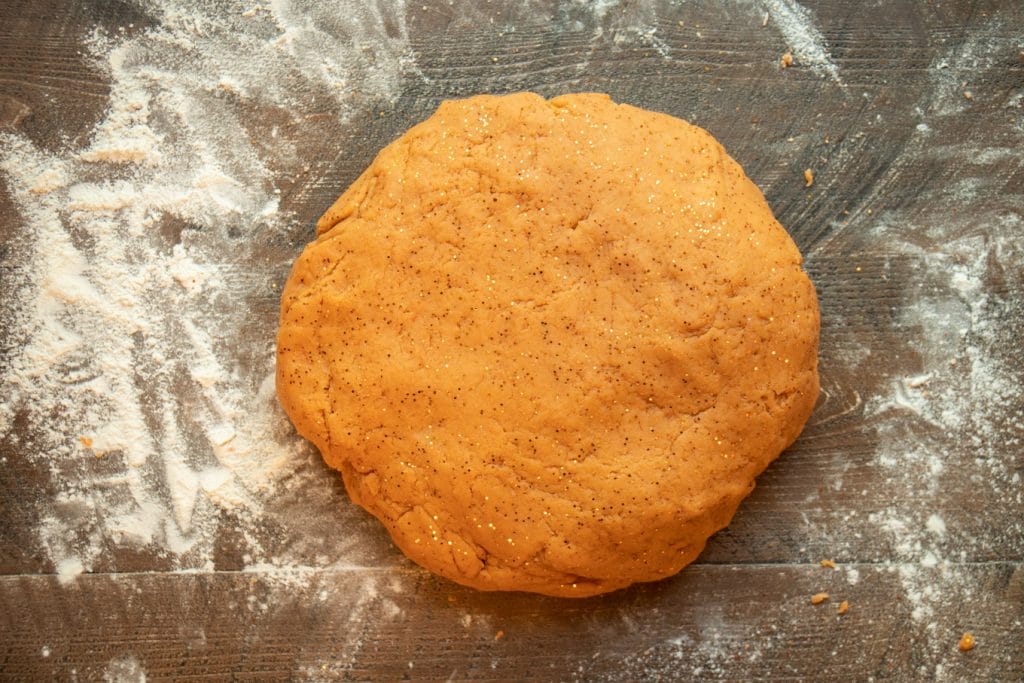 My playdough is too dry?
Add a touch of oil, about a teaspoon at a time and knead until it stops cracking.
My playdough is too wet?
If your playdough is too wet continue cooking.
Or add a more flour, a teaspoon at a time and knead again.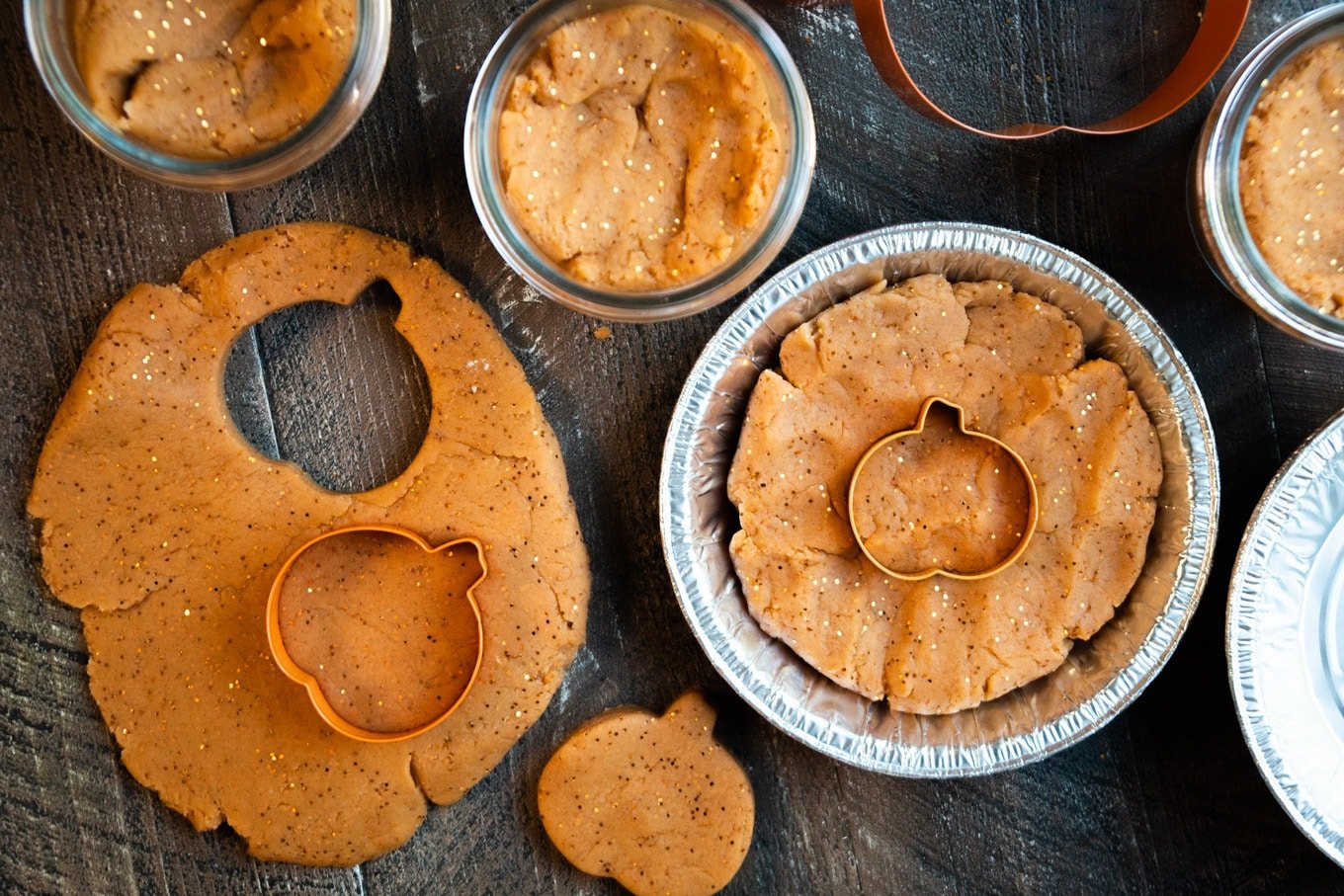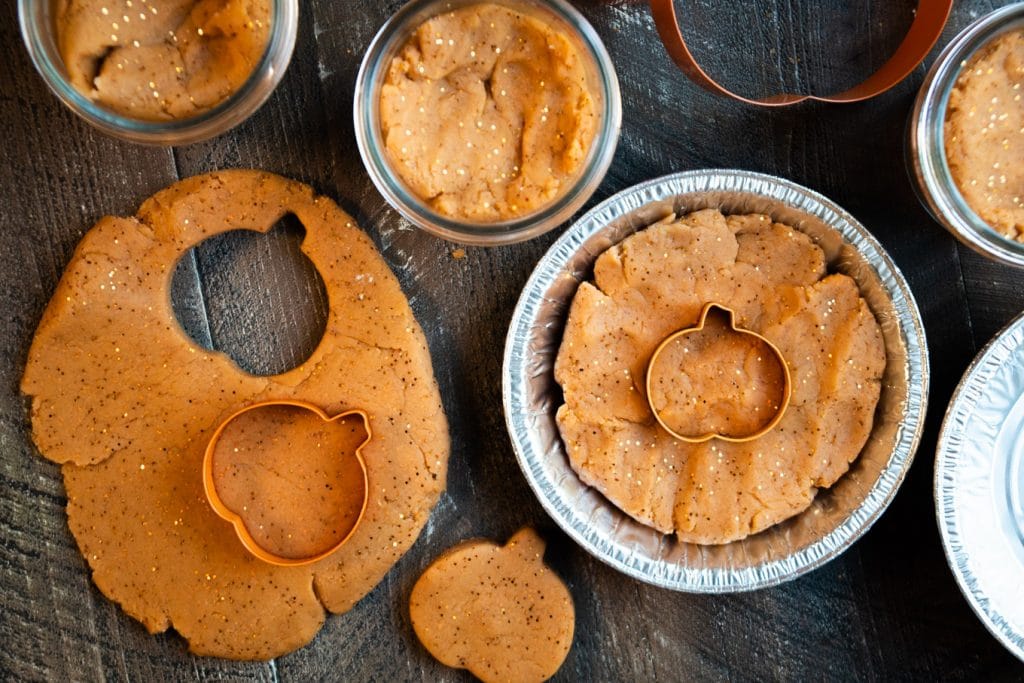 What else can I put with the playdough to make it fun for kids?
Cookie cutters
Mini pie tins
rolling pins
Any type of toy that you have from Play-Doh kits works too!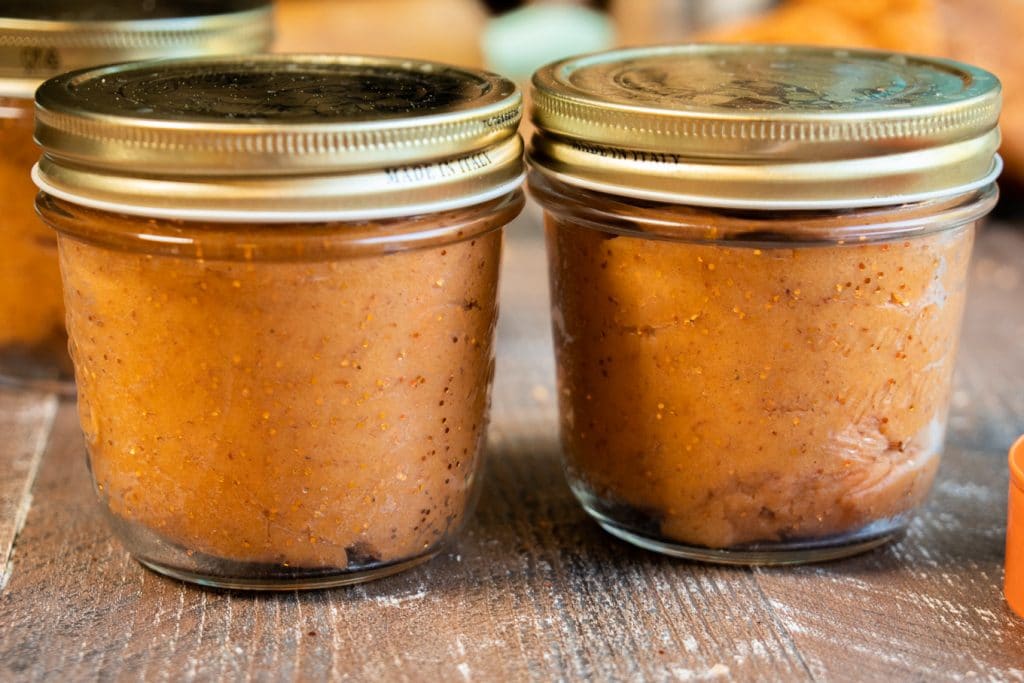 How long does homemade playdough last?
Cool the playdough completely before storing it. If put away hot it will create moisture in the storage containers and will mold faster.
Place cooled playdough in ziplock bags or jars with lids.
We keep our homemade playdough for 2 weeks. It can and will mold, it depends on the weather and moisture in the air.
To make it last longer you can store the playdough in the fridge.
My other go-to playdough recipes we love making:
Pumpkin Pie Playdough Recipe
Homemade playdough that smells just pumpkin pie!
Servings
10
large portions
Ingredients:
5½

cups

all-purpose white flour

2

cups

salt

2

Tbsp.

cream of tartar

3

Tbsp.

pumpkin pie spice

or see notes if you don't have pumpkin spice

¾

cup

oil

4

cups

water

¼

cup

orange glitter

orange food coloring, gel or liquid

(or red and yellow dye, mixed together)
Instructions:
Add the flour, salt, cream of tarter, pumpkin spice, and glitter to a large pan. Stir.

Add the oil, water and food coloring. Stir. I dipped a toothpick in my gel food coloring twice and add it to the mix. You can add the food coloring slow and see how the color looks.

Set the pan over medium heat on the stove top. Keep stirring the dough. Mine took 7 minutes to form in to a thick playdough. You will know when it is ready when it starts to darken. Keep stirring and turn down the heat if it seems to start sticking.

Remove from heat quickly and dump the dough onto a floured counter top.

Let the playdough cool down enough that you can handle it, about 5 minutes.

Start kneading the dough until it is smooth. (This will only take a minute or two).

Cover the dough in plastic wrap until cooled down. Then divide and transfer into little baggies or containers. Do not store warm for it will get wet from the sweat.

I store mine for 2 weeks, though it will last longer if you place in the fridge.
Recipe Notes:
This is a craft playdough recipe, not for eating. This is very salty, most kids will not eat this but keep an eye on younger children.
My playdough is too dry?
Add a teaspoon of oil at a time and continue to knead until it stops cracking.
My playdough is too wet?
You may need to cook longer or you can add more flour a teaspoon at a time and continue kneading.
I don't have pumpkin spice mix, what can I use?
Use cinnamon, nutmeg, and cloves. Or whatever you have on hand!
Nutrition info is auto-generated. This information is an estimate; if you are on a special diet, please use your own calculations.
Adapted from Crystal & Co. Pumpkin Pie Playdough Recipe
Try one of my pumpkin desserts: