Celebrate the holiday and impress your guests with this Flag Decorated Jello Poke Cake. Red and Blue Jello in a white cake topped with pudding and cool whip frosting.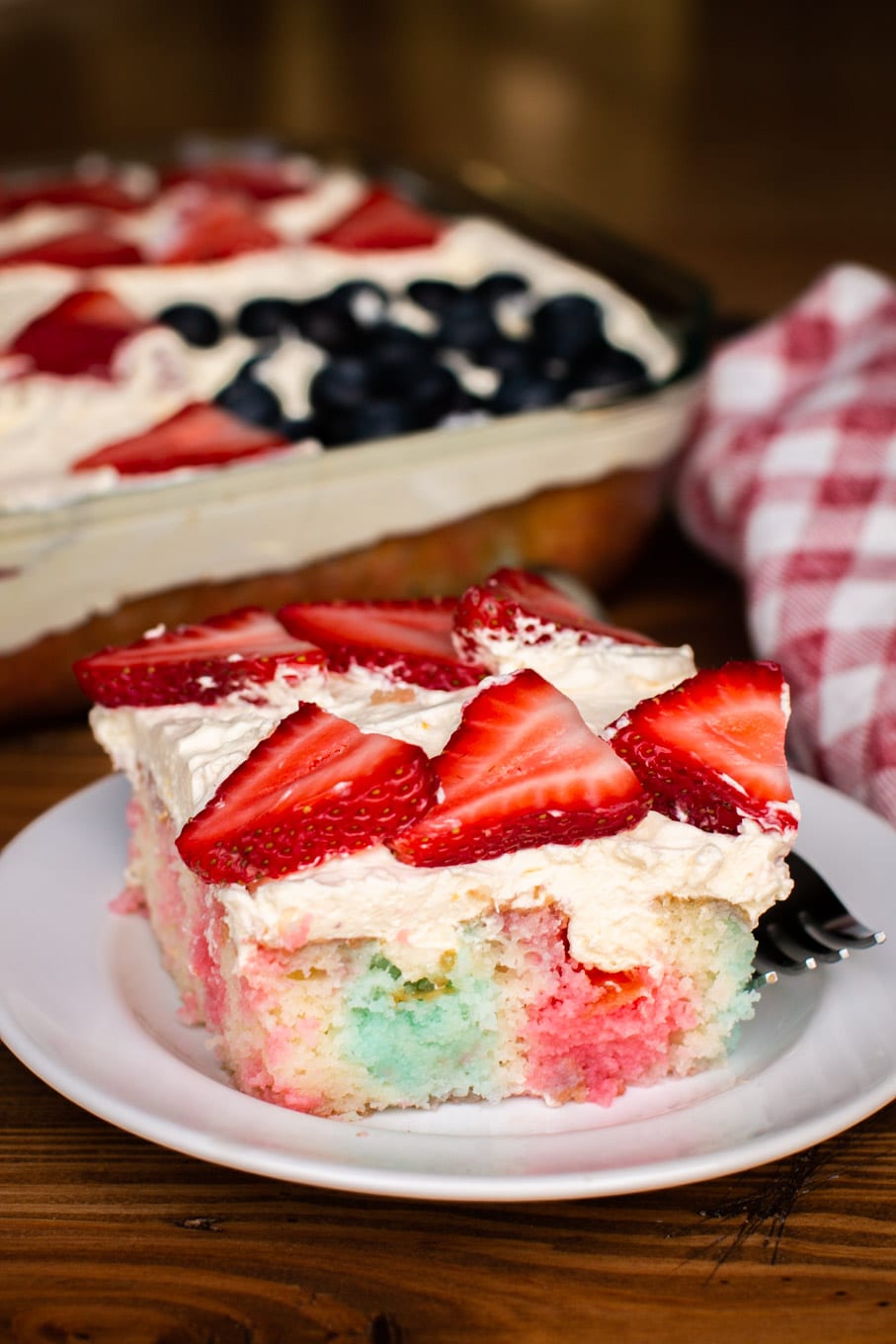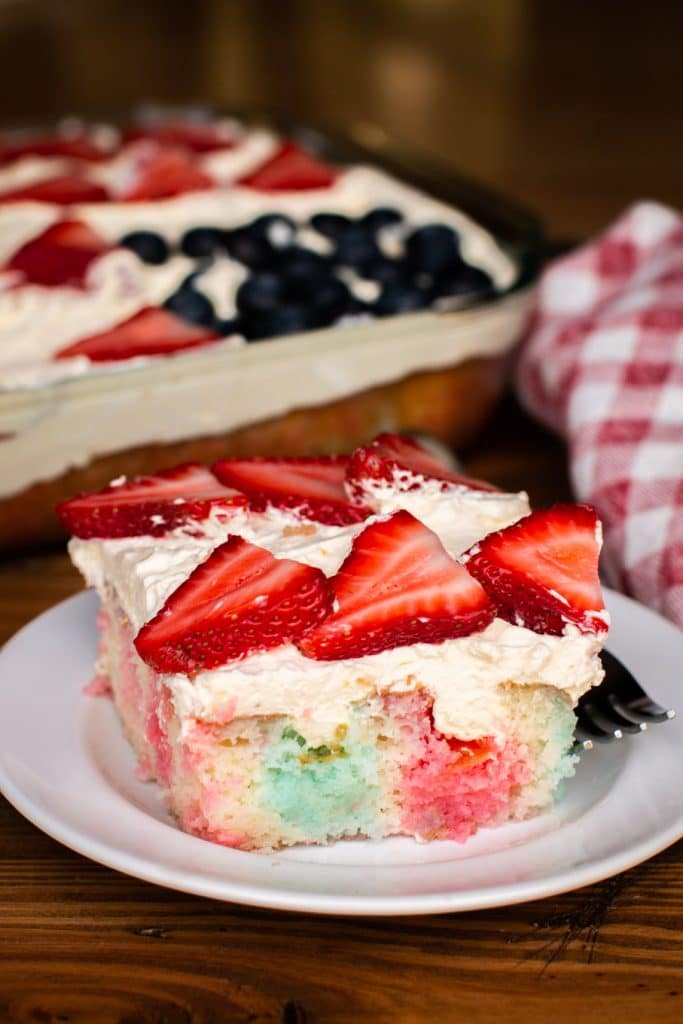 I try every year to make a flag decorated cake whether it be a jello poke cake like this one or if I have time (an entire day) I make Barefoot Contessa's Flag Cake.
This year I'm wanting an easy but impressive option so I will be making this Jello Poke cake again. Here is my recipe that I use that I think will impress your guests. Also, try my flag colored deviled eggs for the holiday!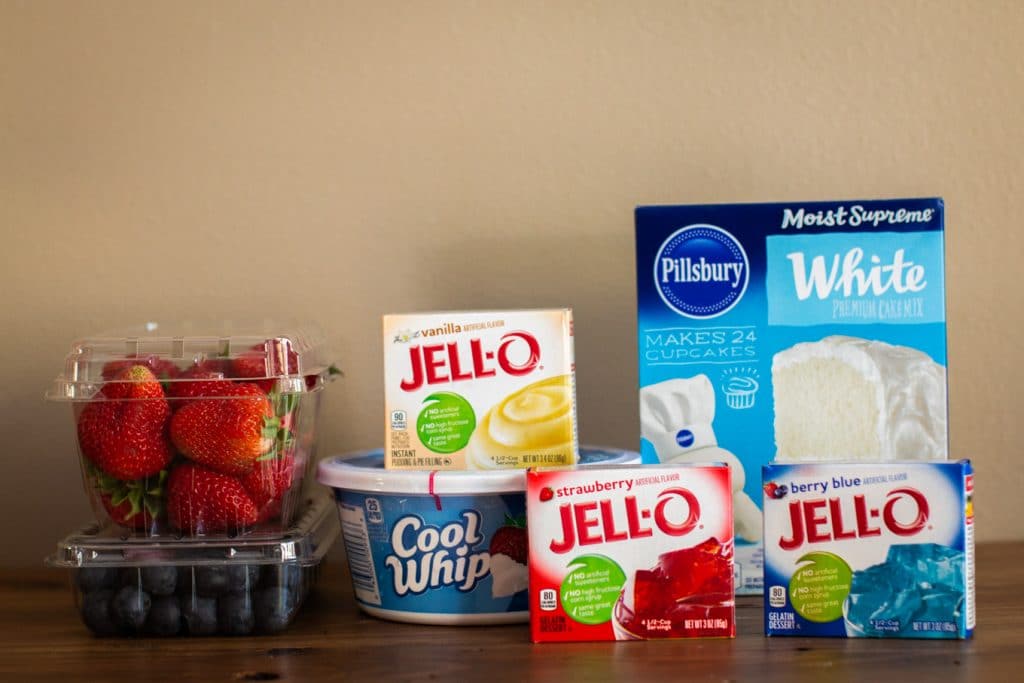 How to make Jello Poke Cake
You will need these ingredients:
White cake mix (along with ingredients list on the box)
Red and blue Jello (3-ounce boxes work the best for less waste)
Hot and cold water
Instant vanilla pudding
Milk
Cool whip
Strawberries and blueberries for decorating
Note that I had a hard time finding the Berry Blue Jello in the small box size. I ran all over town trying to find it (I found it at Safeway). You can use the larger box and use the amount of water that box calls of if you can't find the small box.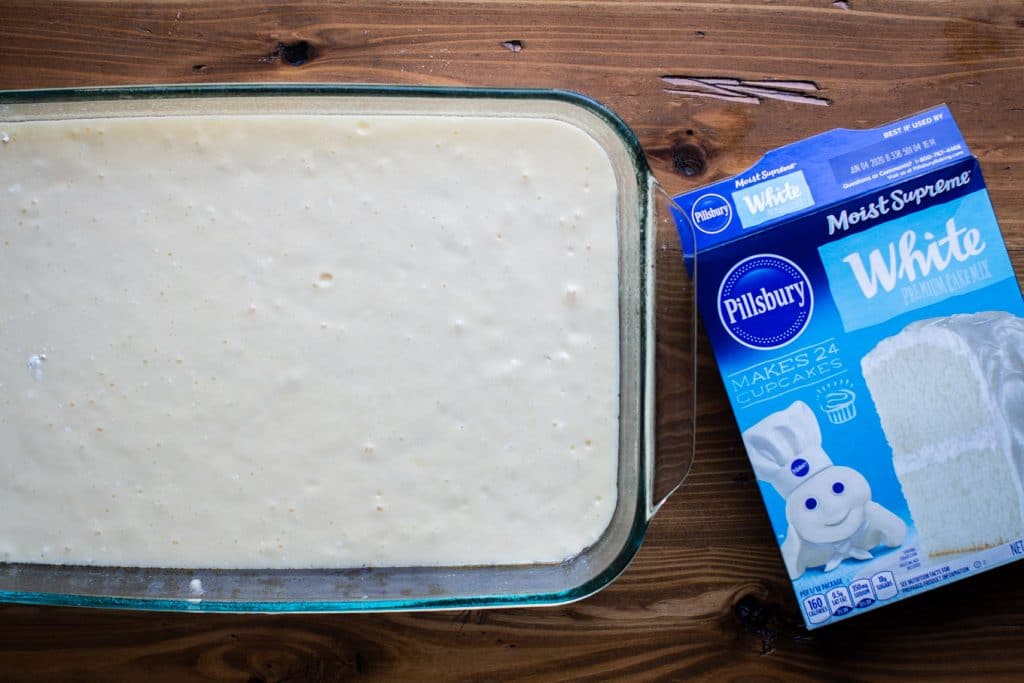 Make the white cake as directed on package in a 9×13 pan that has been sprayed with non-stick spray. I used a Pillsbury White Cake mix.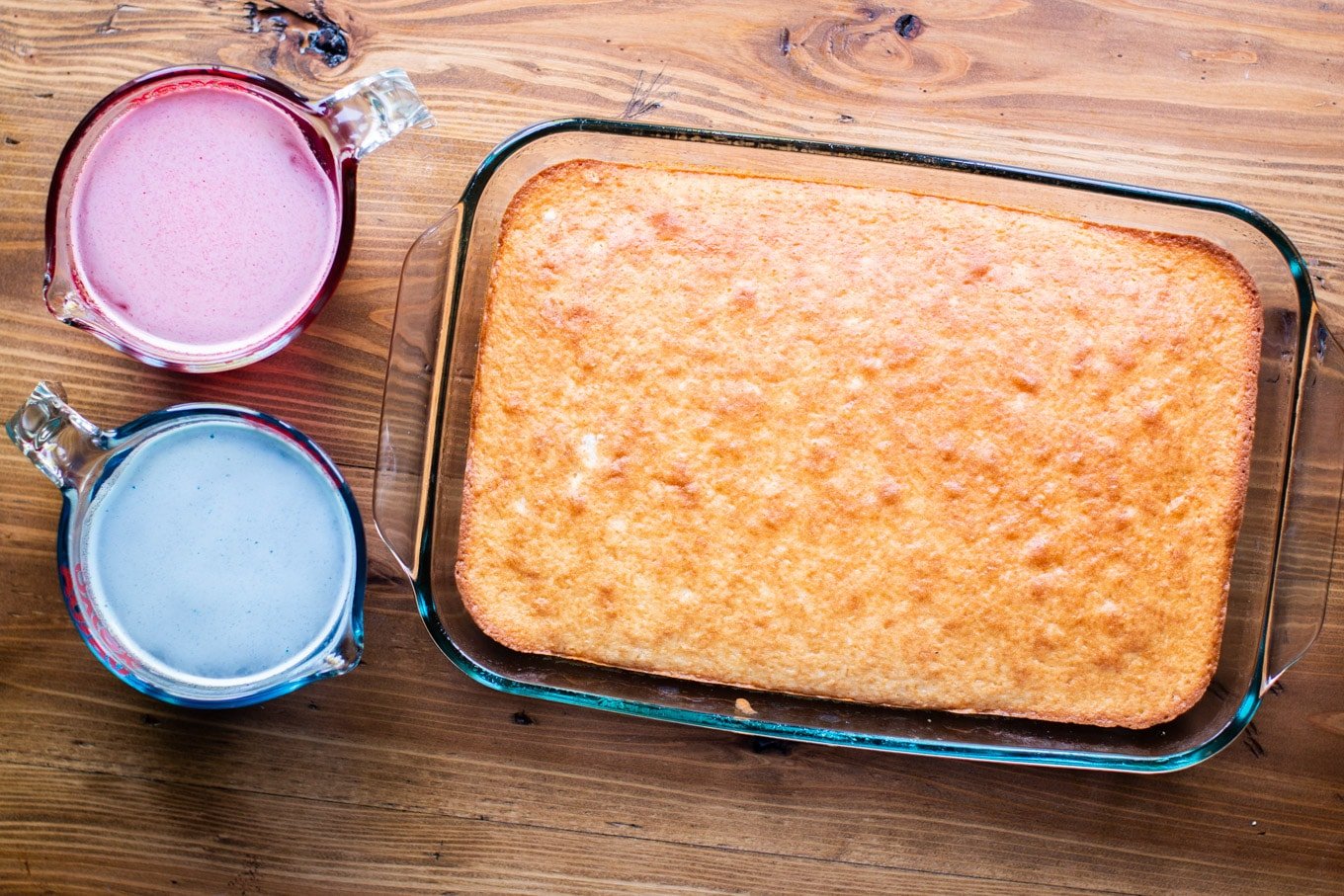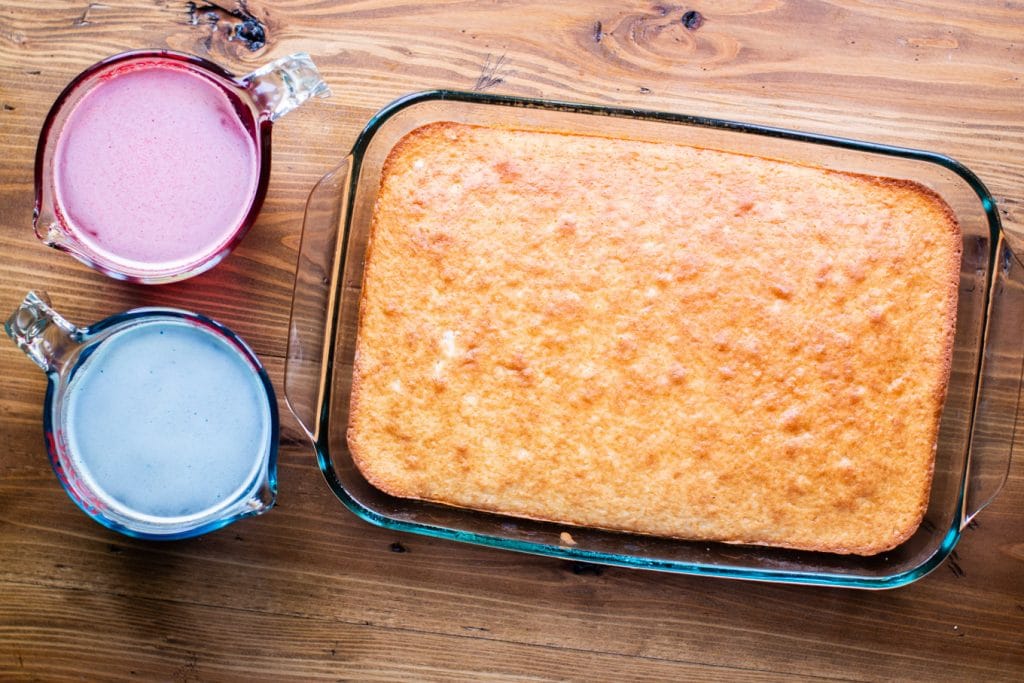 Let the cake cool for at least 15 minutes before poking the holes.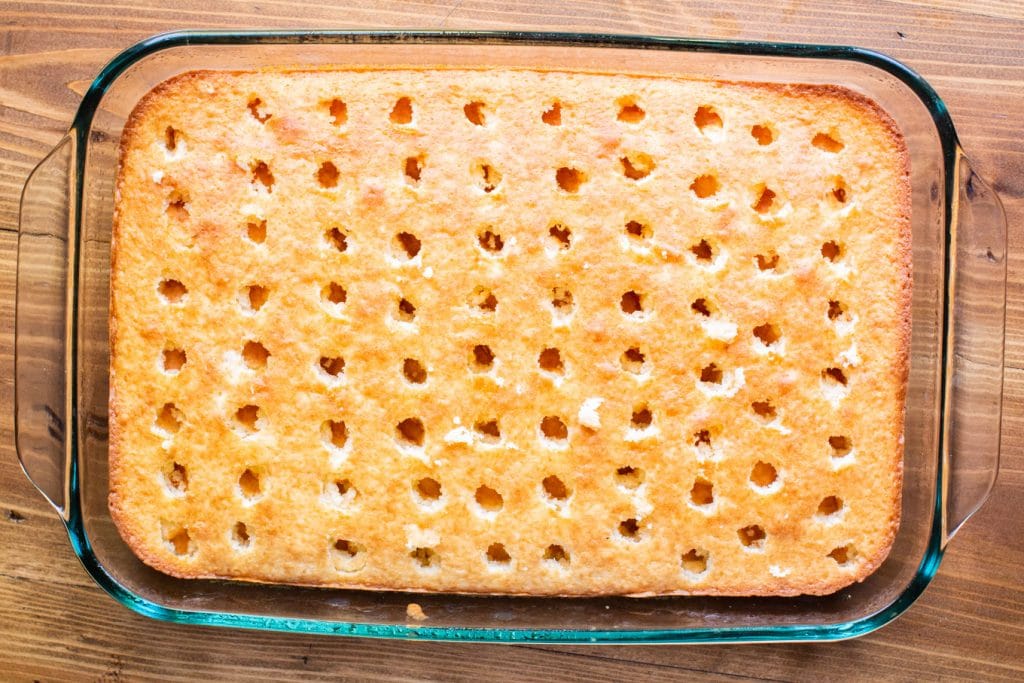 Poke holes into the cake. I like to use a a wooden spoon handle to make the holes, though some people like to use the fork tines to make the holes.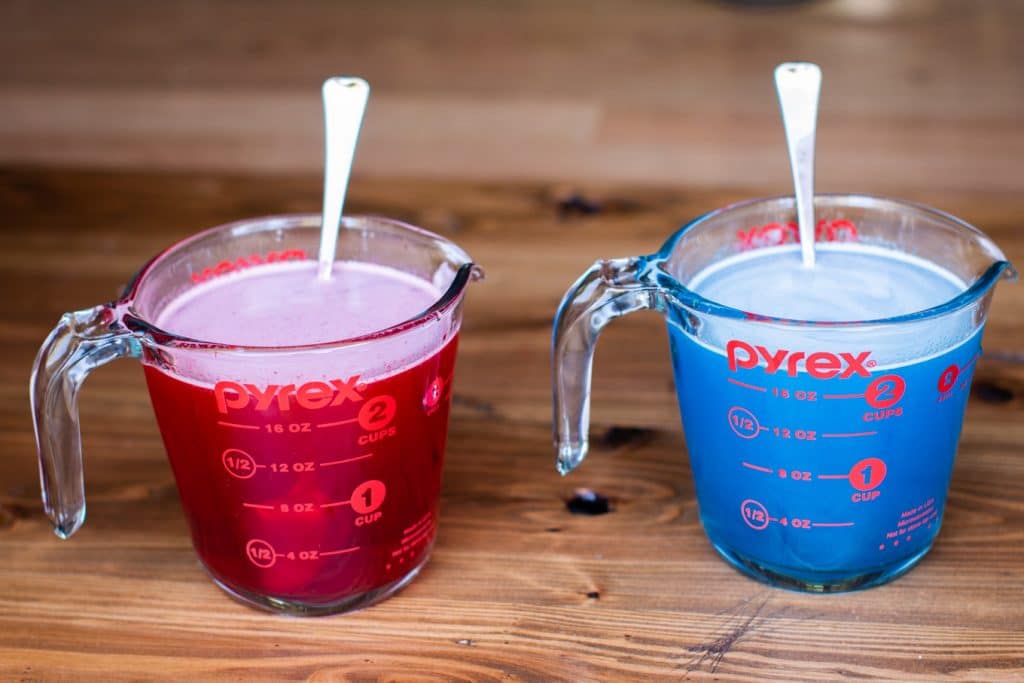 Make the Jello as directed on the package. 1 cup hot water and one cup cold water.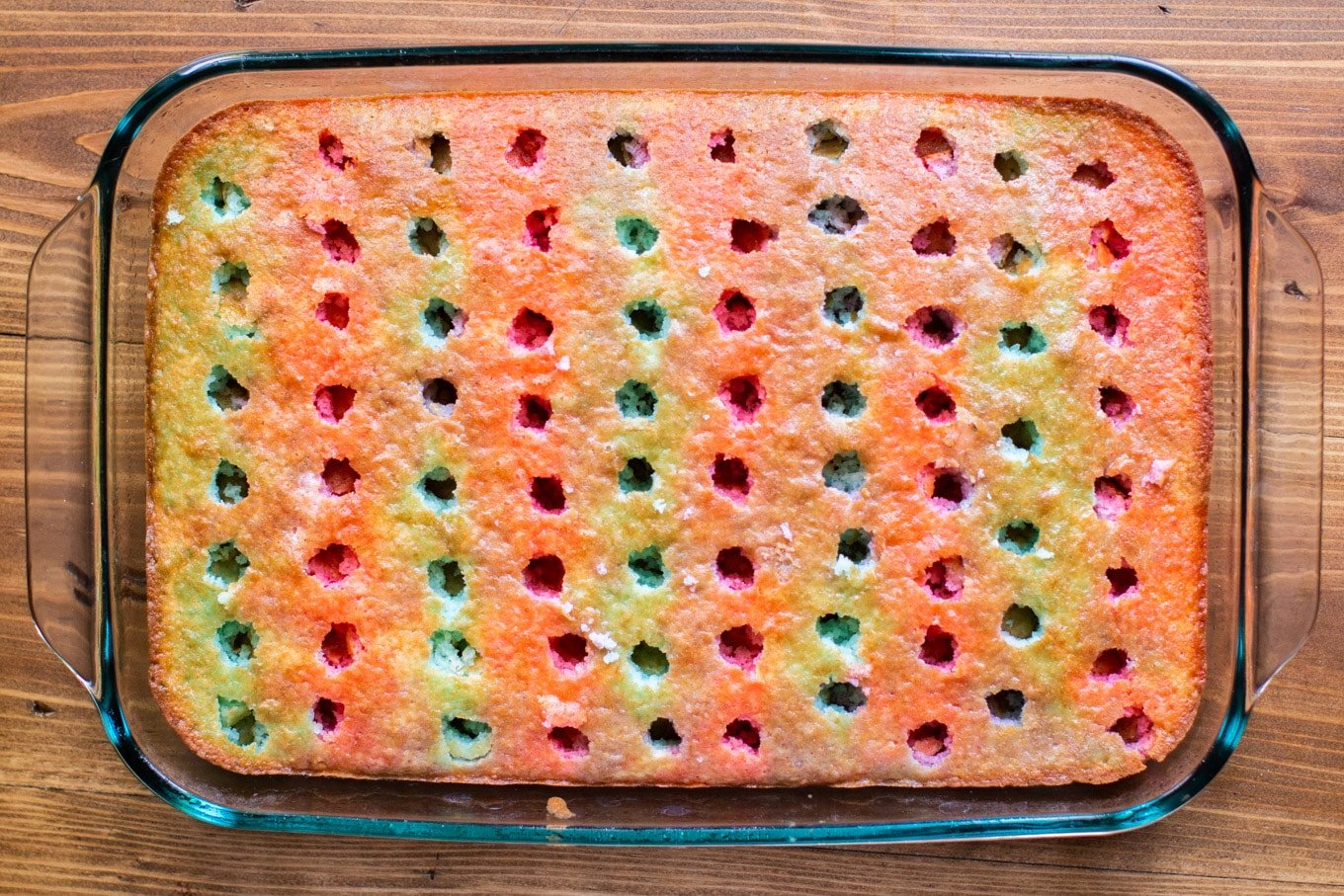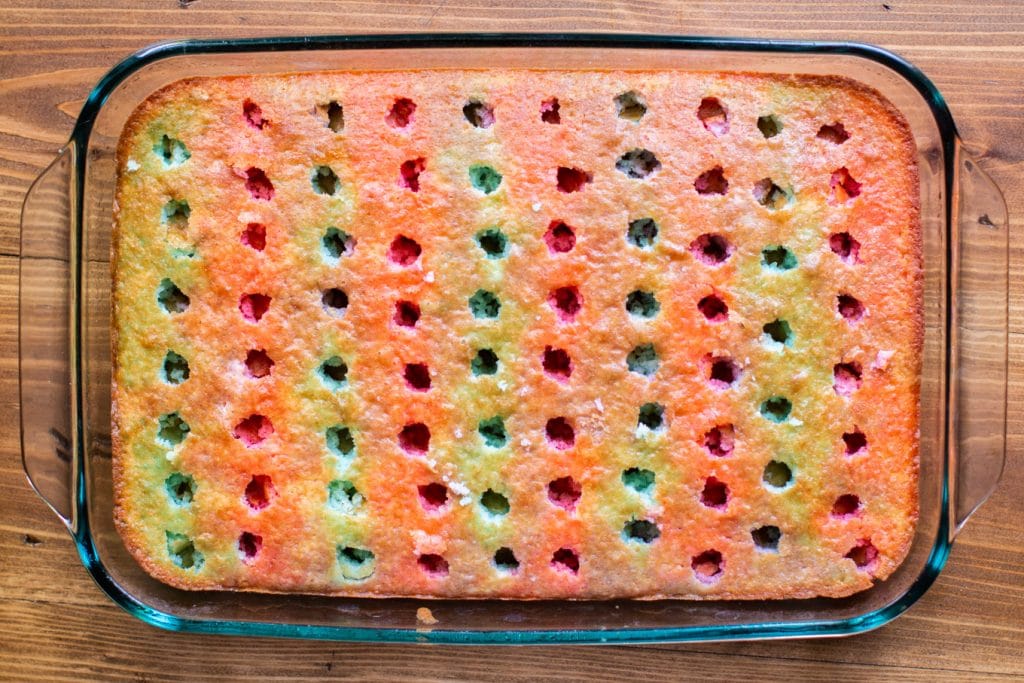 Pour the Jello into the holes that you created. One row of red, then one row of blue. Not all of the Jello is prepared will be used up, only about half of each color.
Refrigerate the cake for a 2 hours before adding the frosting.
Make the Cool whip/pudding frosting:
To make the frosting add the pudding mix and milk to a large bowl and mix together until smooth. Fold in the cool whip.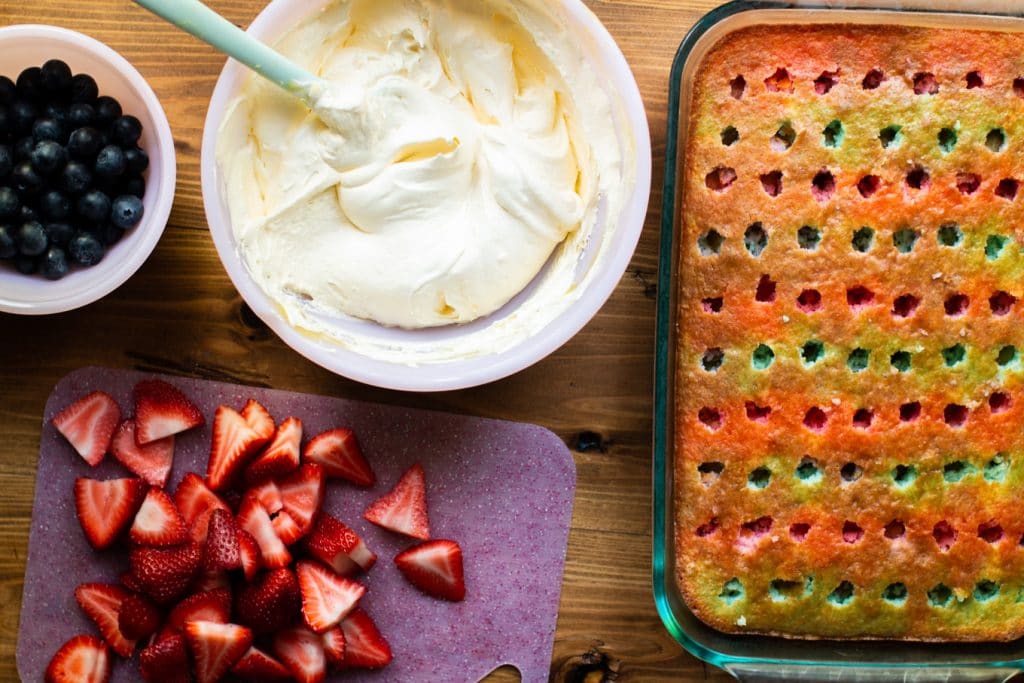 Spread the cool whip frosting over the poke cake until smooth.
Decorate the cake like an American Flag:
This is a small 9×13 cake, so it will not be an exact replica of the American flag. I did about 20 large blueberries (note my blueberries were the giant variety). I did 4 rows of sliced strawberries for the red stripes and I think it looks great.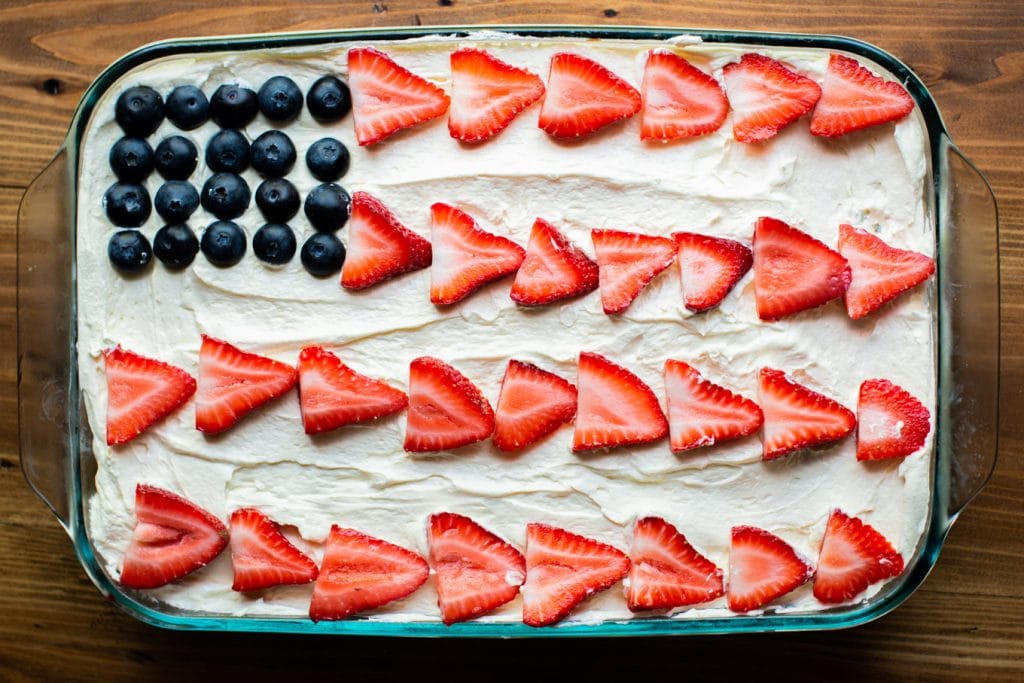 What a fun party to bring to the 4th of July celebration. Your guests will be surprised with what the cake looks like inside.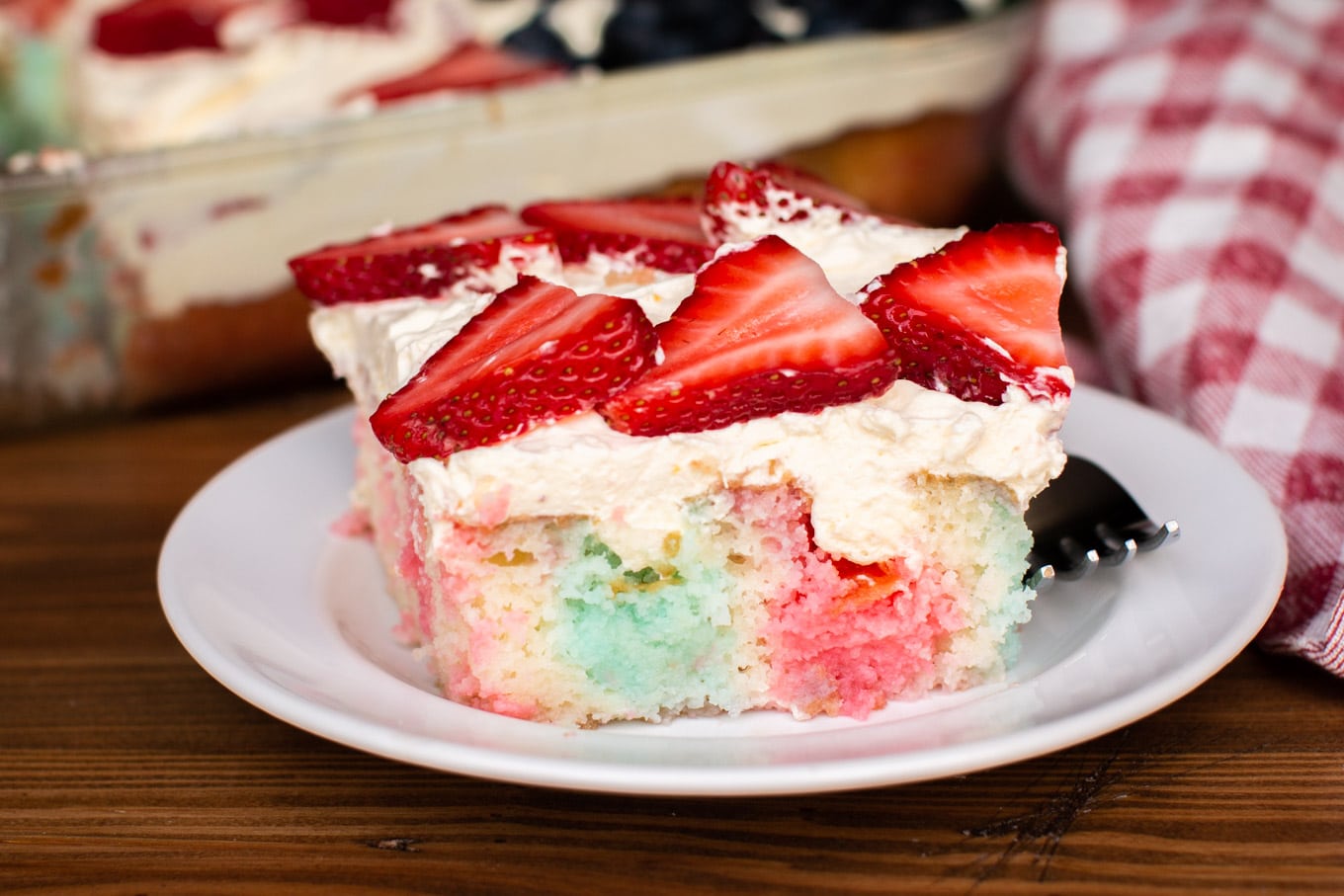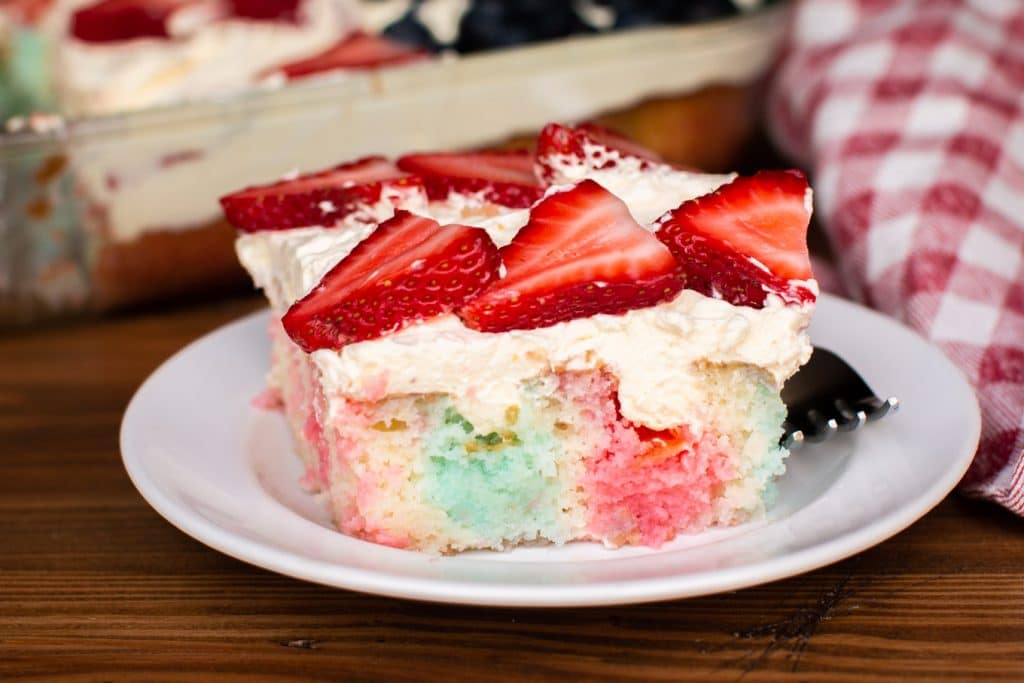 This cake serves about 12 people but if needed can be cut into smaller pieces to serve more.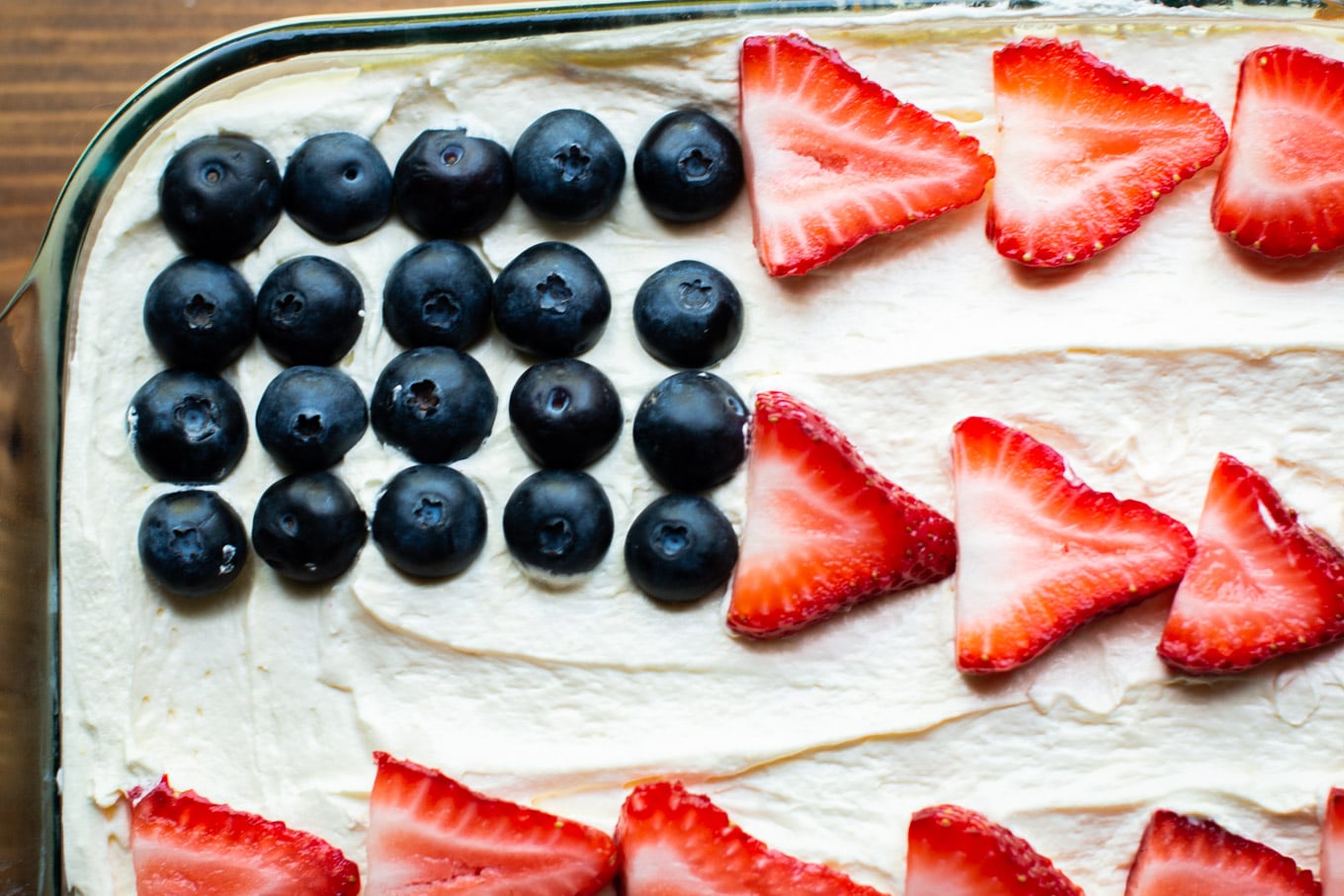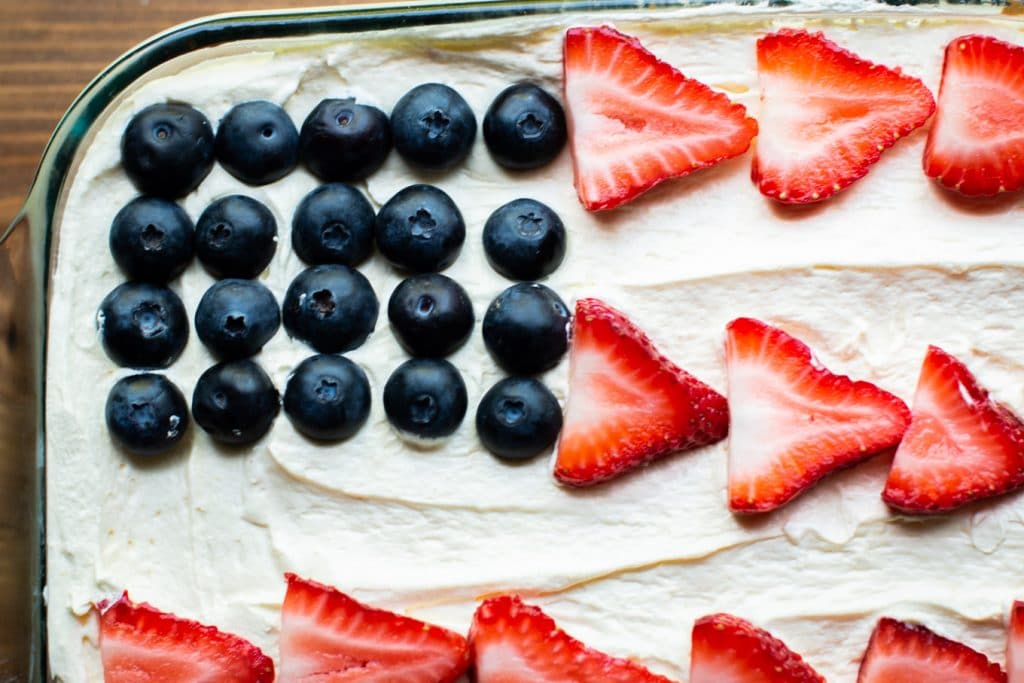 Blueberries and Strawberries go perfectly together to decorate this flag. But if needed raspberries work great too.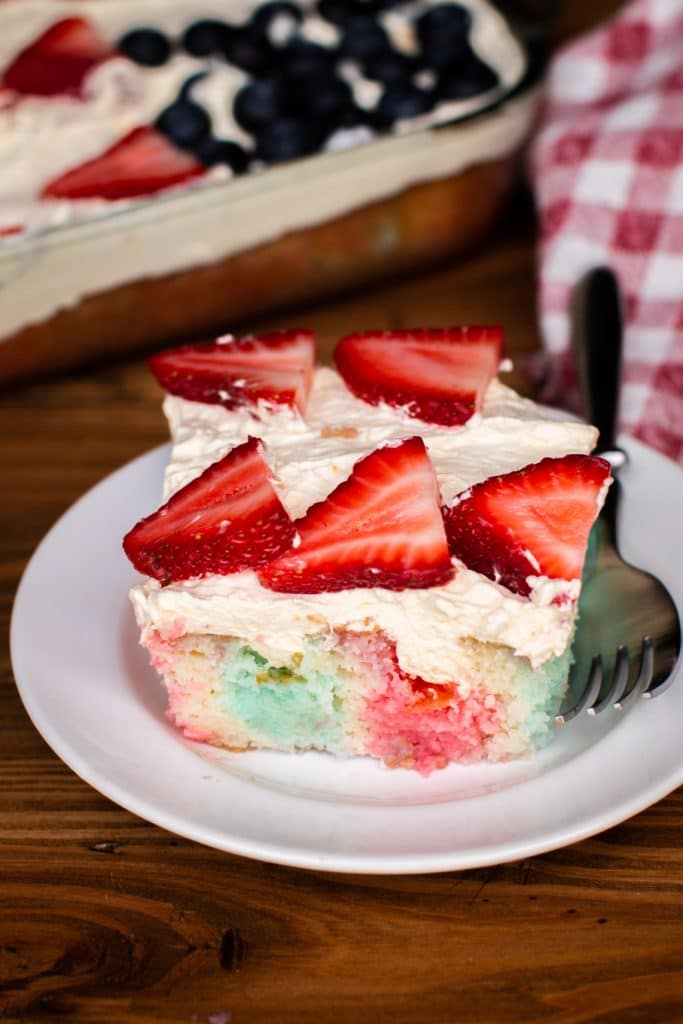 Adding Jello to a cake like this changes it's chemistry somehow. It doesn't set up like you'd expect Jello to. The Jello acts as a thick syrup and moistens the cake and doesn't turn into gelatin.
Flag Decorated Jello Poke Cake
White cake filled with Red and Blue Jello topped with a pudding and cool whip frosting.
Ingredients:
15.25

oz.

White cake mix (and ingredients listed on box)

I use Pillsbury

3

oz.

Strawberry Jello mix

3

oz.

Berry Blue Jello mix

2

cups

Hot water

2

cups

Cold water

3.4

oz.

Instant vanilla pudding

1

cup

Milk

8

oz.

Cool whip

1

pint

Strawberries

sliced

1

cup

Blueberries
Instructions:
Prepare the cake as directed in a 9×13 pan that has been sprayed with non-stick spray.

Prepare both jello packages with 1 cup hot water each and one cup cold water each (as package directs).

Poke holes into cake with the handle end of a wooden spoon or something similar (about 1/4 inch round stick).

Pour the jello into the holes of the cake, alternating rows with each color. Note you will not need all the Jello. I only used half and refrigerated the other half for serving another way.

Refrigerate the cake for at least 2 hours before making the frosting.

When the cake has chilled start making the frosting. Add the instant pudding mix and milk in a medium-sized bowl. Mix until combined. Fold in the cool whip.

Spread the frosting over the cake. Decorate as desired with strawberries and blueberries in a flag shap. Serve and enjoy!
Nutrition:
Calories:
275
kcal
|
Carbohydrates:
59
g
|
Protein:
4
g
|
Fat:
3
g
|
Saturated Fat:
2
g
|
Cholesterol:
5
mg
|
Sodium:
384
mg
|
Potassium:
139
mg
|
Fiber:
2
g
|
Sugar:
40
g
|
Vitamin A:
75
IU
|
Vitamin C:
24.4
mg
|
Calcium:
129
mg
|
Iron:
0.9
mg
Nutrition info is auto-generated. This information is an estimate; if you are on a special diet, please use your own calculations.
See these other Jello Recipes here on Vintage Recipe Tin: