Summer is for relaxing and enjoying time with friends and family. I don't know about you, but backyard family time and poolside chats filled with lots of laughs, good food, and delicious cocktails are totally on my list for this year.
If you are looking for a delicious summer drink, give the Melon Sherbet Cocktail recipe a try! Its rich, creamy ice cream flavor is great for an afternoon treat or as an after dinner dessert drink. It is so easy to make and only requires two ingredients. Who doesn't love an easy to make recipe?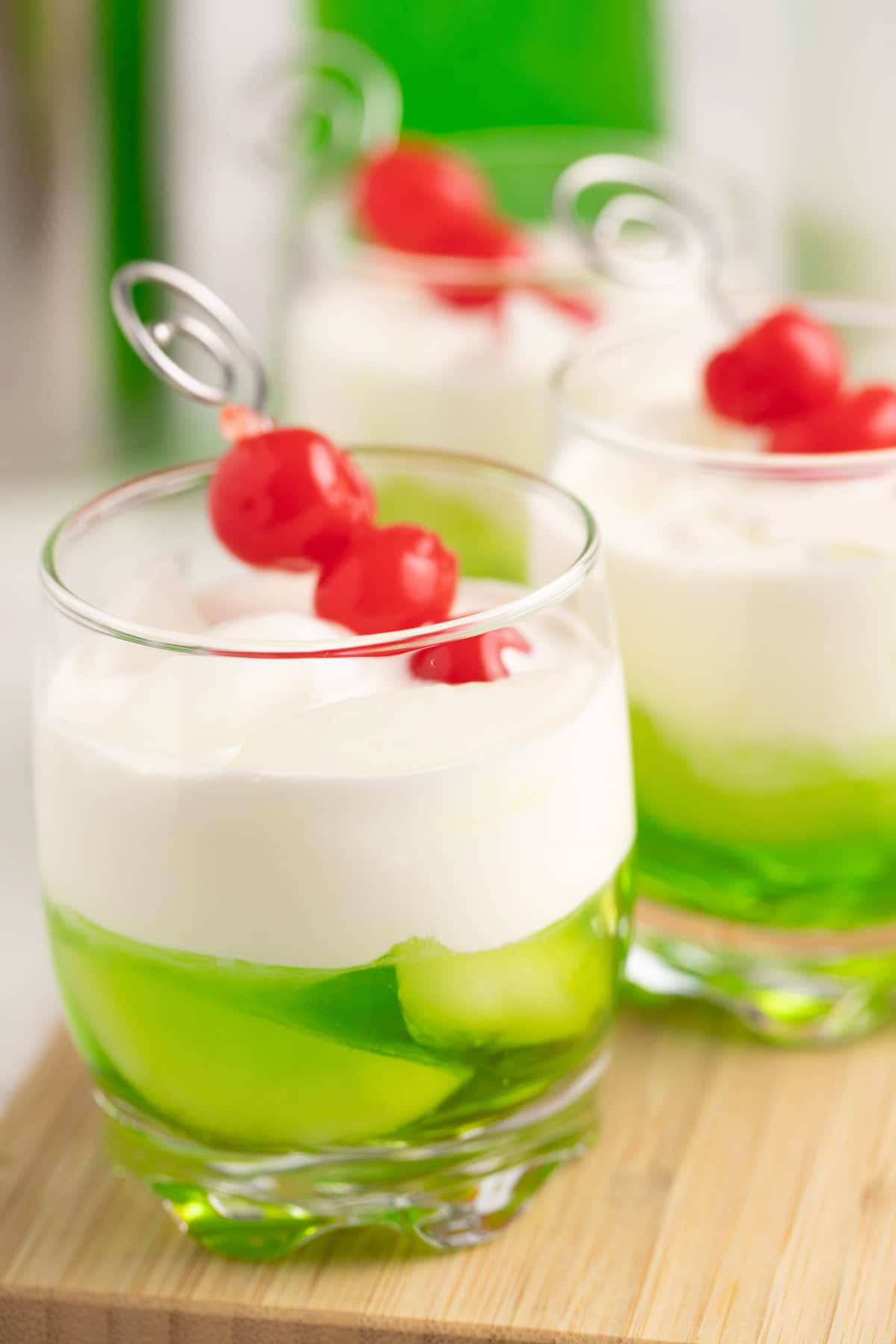 What is Midori?
Midori is a melon-flavored liqueur that can be described as sweet and fruity. It was first manufactured in Japan during the 1960s. It is typically mixed with vodka in most cocktail recipes, giving the drink a light flavor.
What you need to know about fruit liqueur & how they are made
There are many different types of fruit liqueurs. Fruit liqueurs taste similar to the actual fruits they were made from, and can be consumed as a cocktail or used in baking recipes.
Fruit liquors are usually made from fresh, pureed, or cooked fruit that is then mixed with sugar and alcohol. This mixture is allowed to ferment for a few weeks before it is bottled up for purchase. Some popular fruits used in making these liqueurs include oranges, peaches, cherries, pears and apples.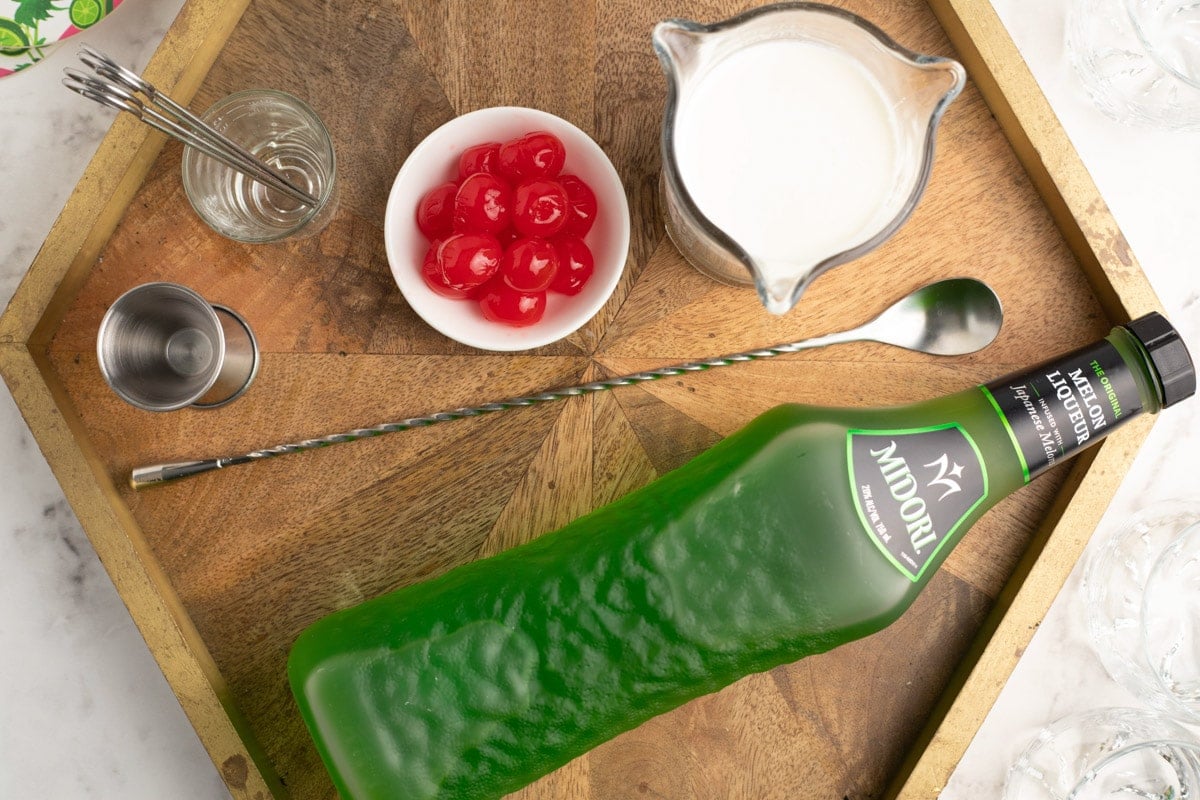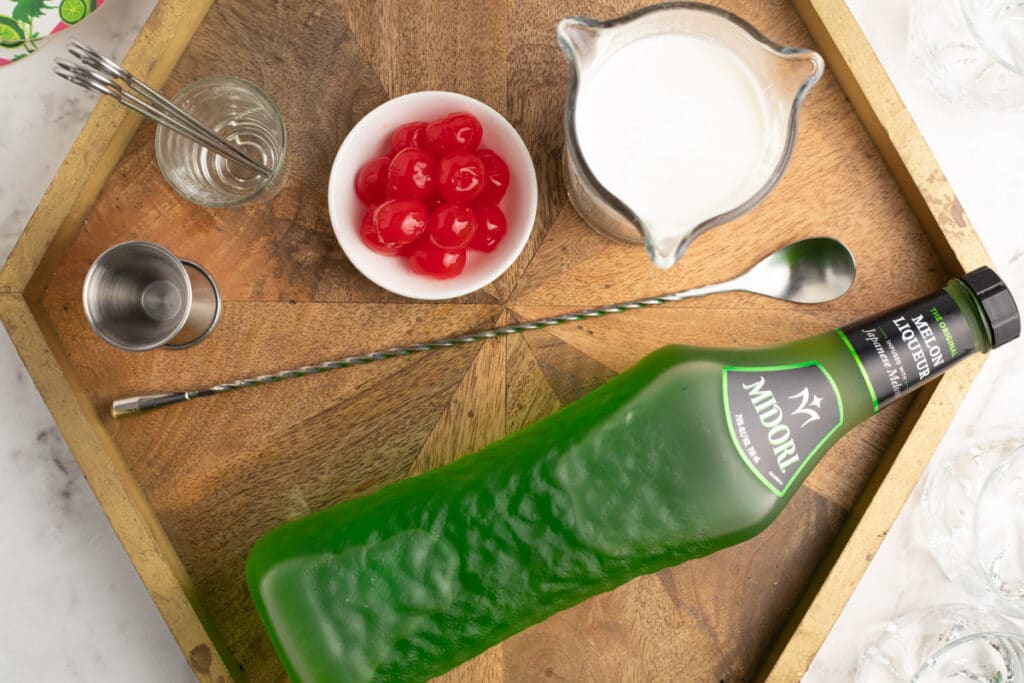 Which is better sherbet or sorbet?
Wondering what the difference between sherbert and sorbet is? I don't blame you, it is a bit confusing. Sherbet is an ice cream and has a milk or cream base, making it slightly sweeter than sorbet. Sorbet is made of fruit juice and water, and has a lighter flavor.
Because of the milk content in sherbert, sorbet is typically a better choice if you're lactose intolerant.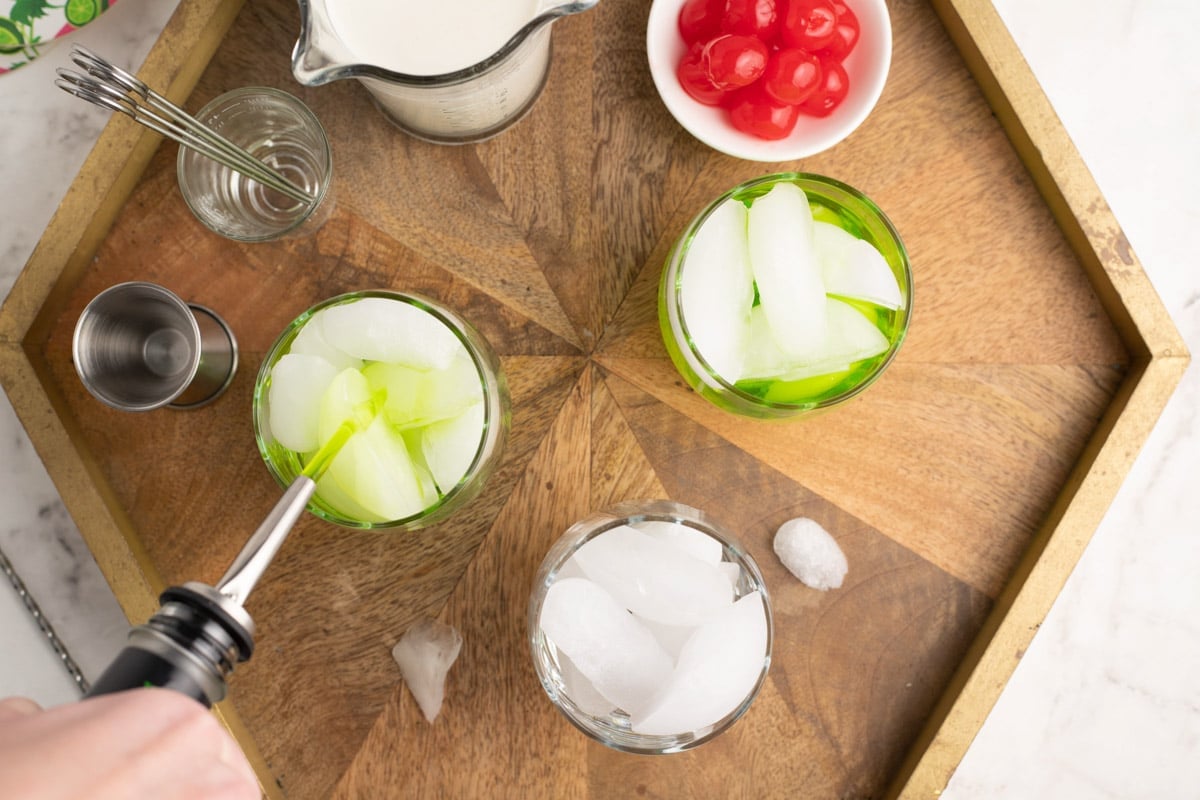 How to make Melon Sherbet Cocktail
With only two ingredients, this refreshing dessert cocktail is quick and easy to whip up for an impromptu girls' night or after dinner drink. If you prefer a bit lighter version, you can add some club soda (to taste) to the recipe.
Ingredients
Midori melon liqueur
Heavy whipping cream
Maraschino cherries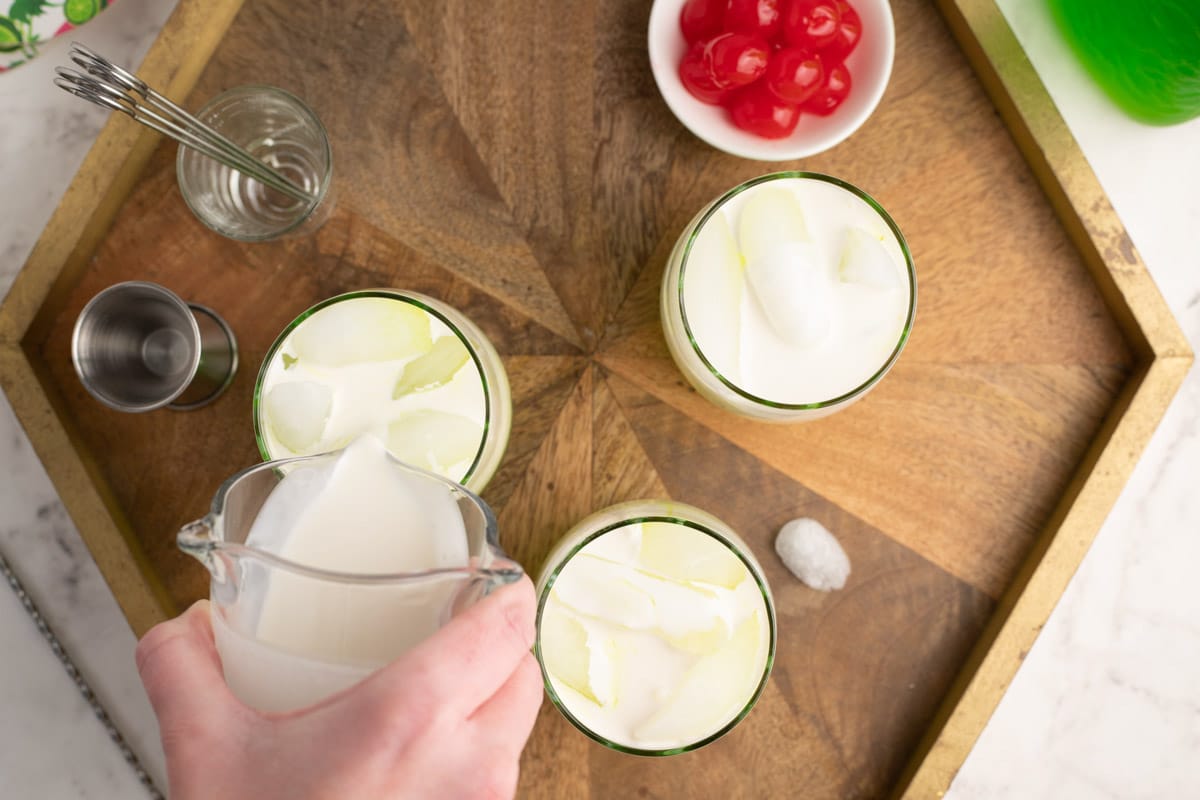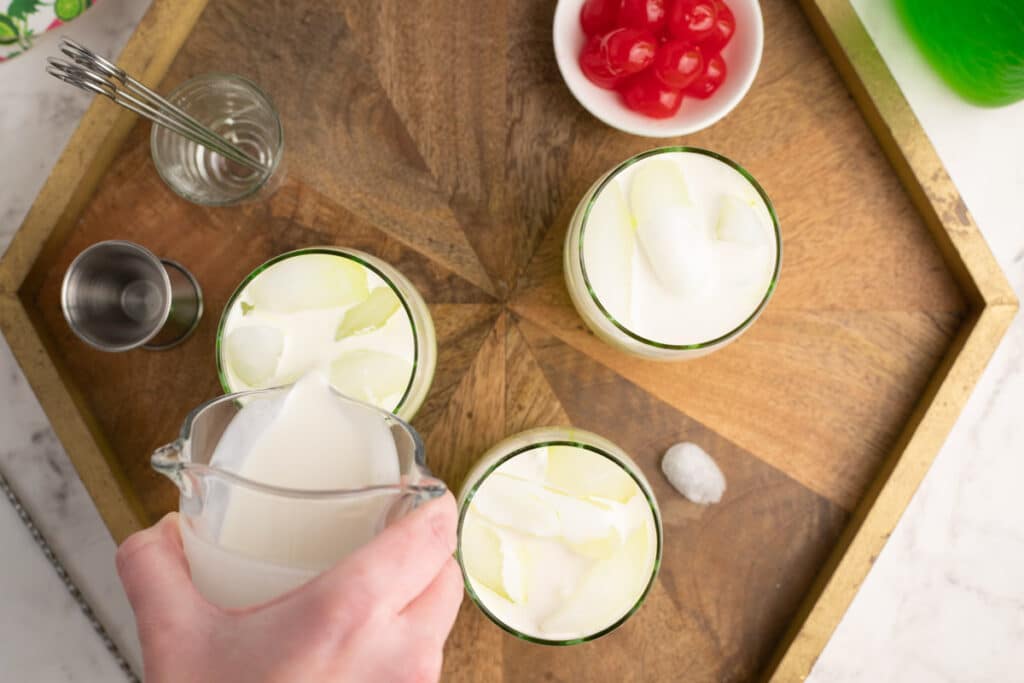 Instructions
First pick a short glass or gorgeous martini glass to use for the best presentation.
Fill the glass with crushed ice, then pour the Midori into the glass.
Next, add the heavy cream and gently stir.
Finally, garnish with three cherries and enjoy!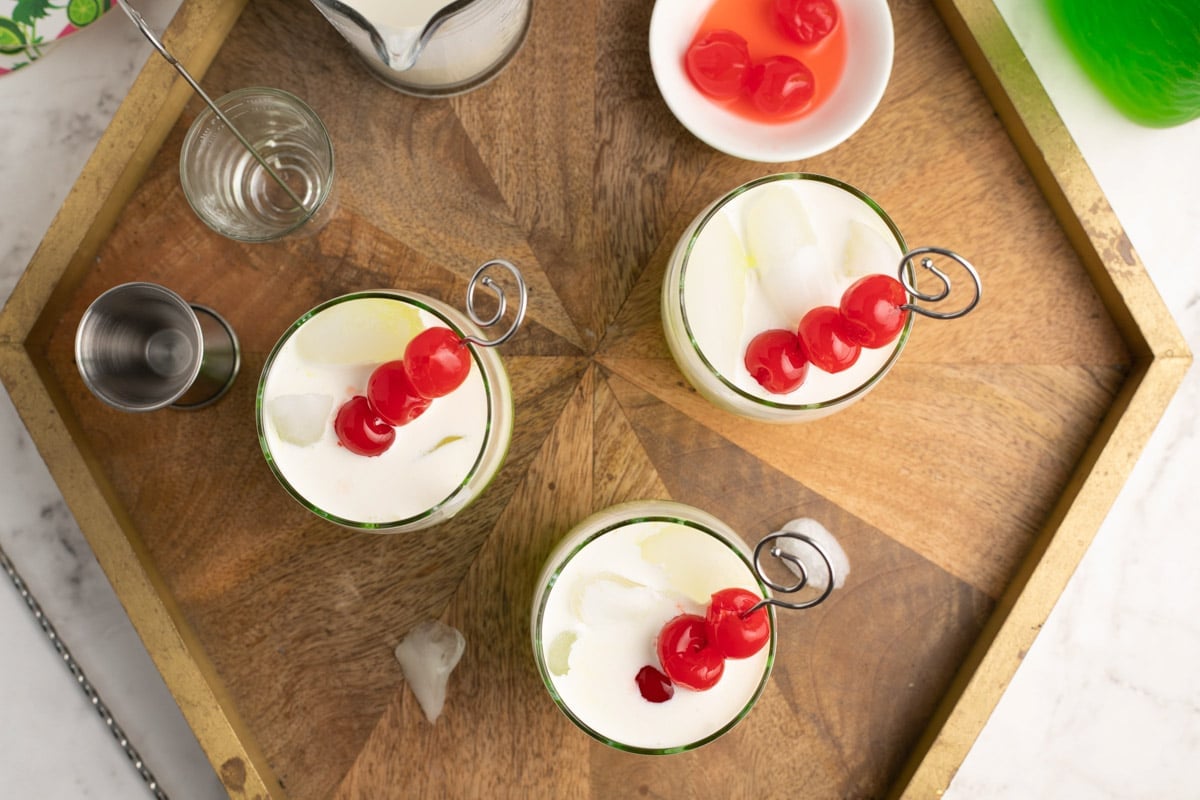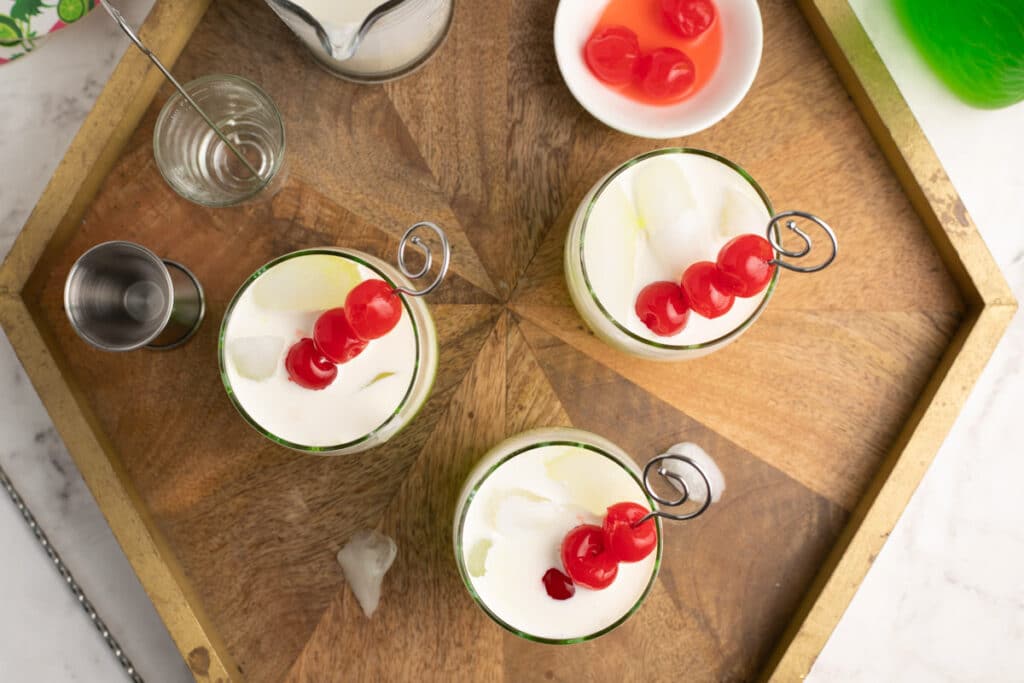 Sherbet cocktail variations
Because this cocktail recipe is only two ingredients, it's easy to change it up and try new flavor combinations. Here are a few ideas to get you started:
Raspberry sherbet cocktail with vanilla vodka, cream, and raspberry liqueur
Pineapple sherbet cocktail with vanilla vodka, pineapple juice, and club soda
Strawberry sherbet cocktail with white rum, strawberry puree, sugar syrup, and sparkling water
Peach sherbet cocktail with peach schnapps and sparkling water
Orange mimosa sherbet cocktail with champagne, ginger ale, orange sherbet and orange juice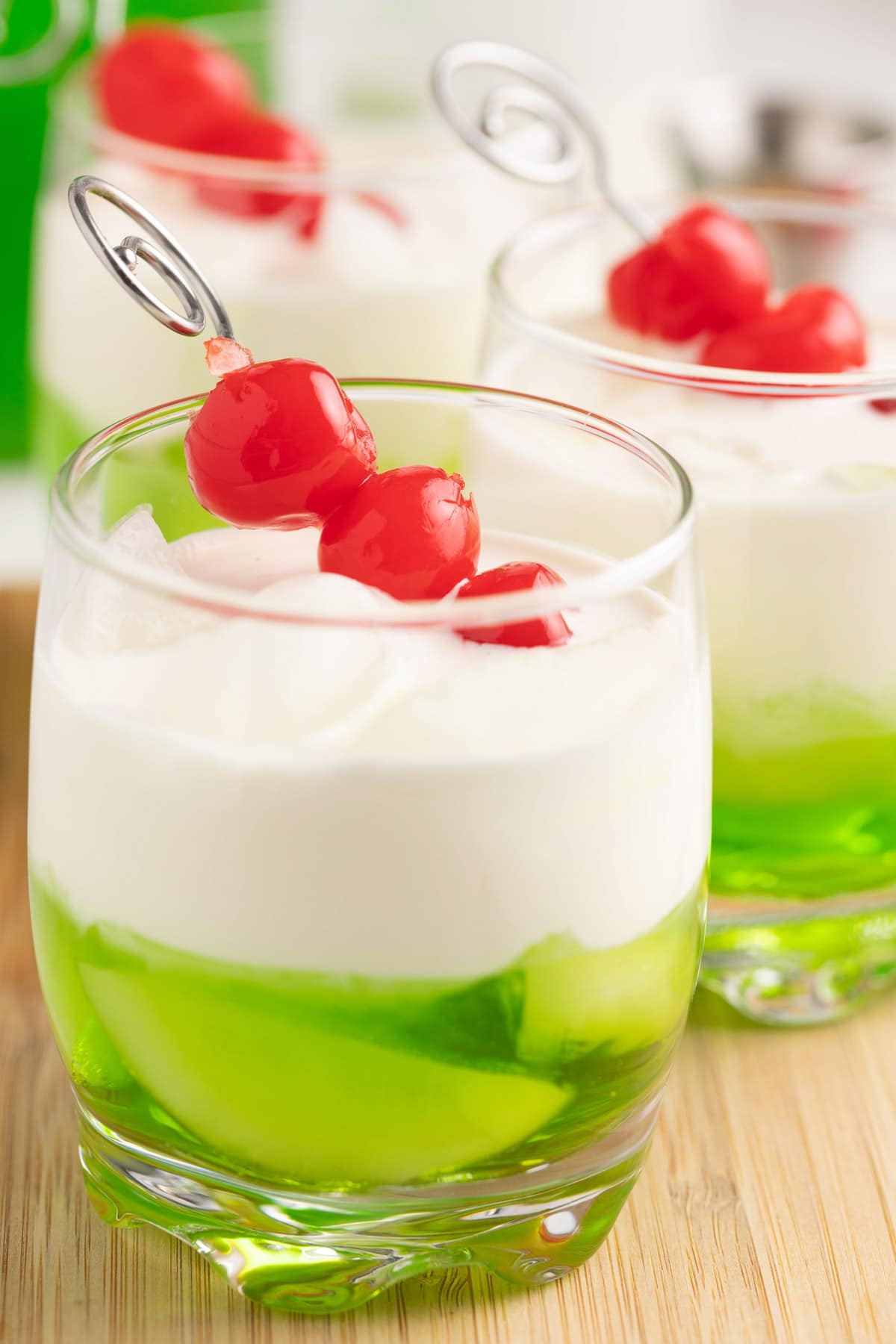 With so many delicious fruit liqueur options, the possibilities are really endless!
We hope you enjoyed this blog post about Melon Sherbet cocktails! We'll be back soon to share more recipes for summertime sipping enjoyment.
In the meantime… cheers! 🙂
Want more vintage-style recipes? Follow me on Facebook, Pinterest, YouTube, or Instagram.
Melon Sherbert Cocktail
Only two ingredients to a fancy cocktail for you and your guests
Ingredients:
3

oz

Midori

1

oz.

heavy cream

3

maraschino cherries
Instructions:
Fill a glass with ice

Pour Midori and heavy cream into the glass

Stir gently and garnish with cherries.

Enjoy!
Nutrition:
Calories:
350
kcal
|
Carbohydrates:
38
g
|
Protein:
2
g
|
Fat:
11
g
|
Saturated Fat:
7
g
|
Cholesterol:
39
mg
|
Sodium:
11
mg
|
Potassium:
24
mg
|
Fiber:
1
g
|
Sugar:
37
g
|
Vitamin A:
424
IU
|
Vitamin C:
1
mg
|
Calcium:
27
mg
|
Iron:
1
mg
Nutrition info is auto-generated. This information is an estimate; if you are on a special diet, please use your own calculations.